Ethertoff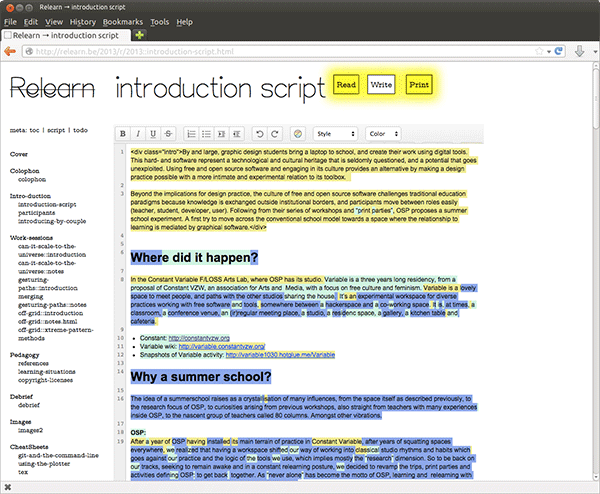 Ethertoff is a simple collaborative web platform, much resembling a wiki but featuring realtime editing thanks to Etherpad. Its output is constructed with equal love for print and web.
Just a question: I thought it was ethertopff and not ethertoff but I don't remember why. What is the actual name?

Well someone misspelled ethertopdf as ethertopf which sounds like römertopf and than somebody else understood ethertoff like chokotoff and chokotoff being Bruxellois I thought it might be the best of all these references
Ethertoff has been initially developed for the OSP 2013 Summerschool bearing the name 'Relearn'.
Ethertoff is structured as a wiki where each page constitutes an Etherpad.
The pad is available to logged in users ('write-mode'). The text of the pad is available to everyone ('read-mode').
Ethertoff is a shell for an Etherpad installation hosted on the same domain. This integration is based on Sofian Benaissa's bridge between Django and Etherpad, originally created for THINK WE MUST/CON-VOCATION a performance during Promiscuous Infrastructures entrelacées, an exhibition by the collective Artivistic at SKOL.